September 17th, 2003, 03:24 PM
It's already Thursday, Sept. 18th in NZ, so we need to wish a very Happy Birthday to Candy, the first of the Jack/Cleo cast to communicate with fans directly via the old SUSA message board!

:party: :birthday:

Some of her Cleo communication can be found

here

, and some of her posts on the Jack board can be found

here

.

Bill, Bailey - do either of you remember how old she is now? I'm thinking she was 22 or 23 back in 2000, making her 24 or 25 now.

What do we know about her? Well.... we know she's a major fitness and health buff, not entirely vegetatian but close. Very fond of chardonnay, and vegemite. :eek:

We know she grew up in Wellington, where her family still lives, and that she has a younger brother. We know she studied dancing, and early on decided school wasn't for her. We know that she choreographed both of Cleo's strip tease routines, and Sarge's as well, and actually chose the music for Cleo's number in the mutant bar. We know that they offered her a gig as Jen Sky's stand-in and occasional stunt double, but she turned it down. (Or possibly they decided she was just much skinnier than Jen - not sure which.)

We know that she appeared in these episodes:

Cleo - "Flying Lessons," as the mutant bar stripper: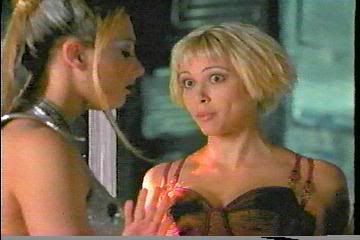 "Run Cleo Run," as a mutant bar patron.

possibly another Cleo ep, again as an extra in a bar.

Xena - "Lyre, Lyre, Hearts On Fire," as one of the naked Amazons gyrating in the sauna in silhouette during the "Sisters" number (see below.)

Hercules - "Hercules Tramps and Thieves," as one of Luscious Deluxe's chorus girls: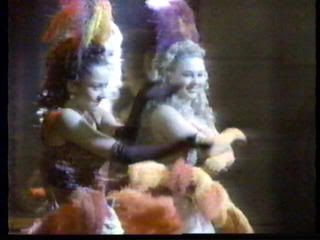 Angie and Kevin Smith's "Lawless" series - unknown which one (but I bet she played a stripper!)

Jack - she was Candy (of Candy and Bubbles) with whom Napoleon woke up on the day of his wedding.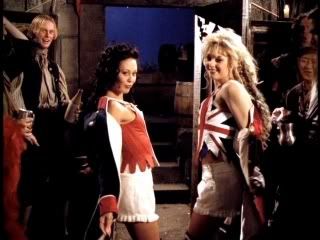 She returned in "One Two Three Give Me Lady Liberty" and "The Morning After" - possibly some more - anyone remember?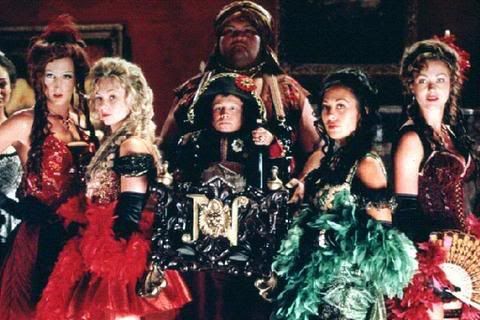 On December 24th (her time) 2000, she chatted with us at the Sam Raimi Yahoo Group. And after the show, she travelled to both Japan and Hawaii. In the fall of 2001, she was back in NZ, and stopped in here several times.

Wherever she is now, I hope all is well and that her career is flourishing!



August
 - Jack's Pack Fan
# 1
, Keeper of the List, 3-Time Speaker of the JoAT Fan Quote of the Week, and the only person ever to have Back 2 Back Jack and Cleo fan quotes !