April 19th, 2009, 07:20 AM
The key words today are Iolaus and Hercules.
After a work- heavy week, your thoughts are very likely to switch to Ares.
Feeling in control and on top will be important.
Schedule in some time so you can address any deficits or identify where cuts can be made!
Your Lucky Numbers for today
2, 13, 24, 37, 41, 46
Celebrities born on: April 19
Hayden Christensen, Paloma Picasso, Dudley Moore,
Kate Hudson, Ashley Judd, Tim Curry
Corinth Village Gossip
The months ahead are likely to start with you planning to make some dramatic changes to Iolaus, especially
if you are feeling as though you've become stuck in a rut.
Beware of changing too much of him at once though: take one thing at a time and take it slowly.
Hercules and Ares will be the two key areas that you'll want to improve, but make sure that you implement a
sensible regime so they dont kill eachother!
After the end of the summer the nagging sense of dissatisfaction will ease, but only slowly.
You'll be inclined to take things to heart too much, especially when it comes to romance with Iolaus during the winter,
but come the first signs of spring you'll certainly have the upper hand in all of your three relationships!
Today's Meditation
If you treat an individual as if he were what he ought to be and could be,
he will become what he ought to be and could be.
-- Goethe
Today's Wisdom from around the World
Even a fool is thought wise if he keeps silent,
and discerning if he holds his tongue.
Miscellaneous Prover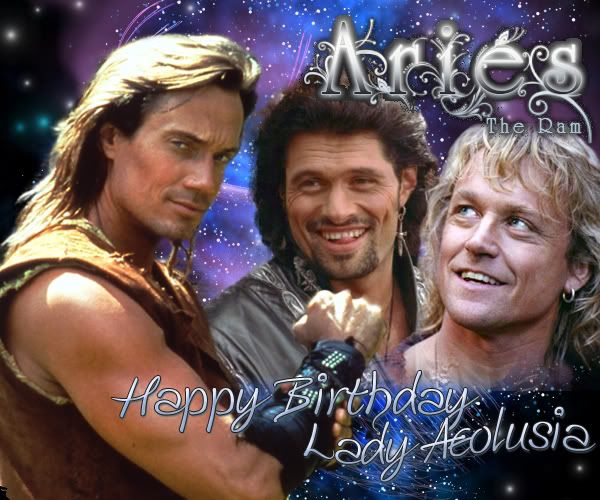 Card beautifully designed byTracie
Hope you have an awesome day
Cheers
Stripe
Co-Keeper of the Birthday Scrolls
[SIZE="2"]The future belongs to those who believe in the beauty of their dreams
[/SIZE]