December 26th, 2008, 12:17 PM
Happy Birthday,Calico(Dec 27th)
Calico was standing at her bedroom window,watching the snow softly fall on the ground below. Suddenly,she saw Hercules waving to her,calling out,."Hey,Calico! Come on out-time for another snowball fight!" Obviously,she couldn't hear him,but she could definitely tell what he was saying to her. She laughed as she remembered their last
snow frolic. She quickly dressed,donning a pair of dark brown jeans and a light brown heavy sweater. A coat,shawl,stocking cap & boots completed her assemble. She ran
down the stairs and out the palace door,where Herc was waiting for her with open arms. "How is my sweet Calico?' he said as he held her close to him. "In your arms,I'm
always happy",replied Calico,although at the moment she was shivering. They walked through the snow,then Herc picked up a handful,made a ball,and threw it right at the
unsuspecting Amazon. "Ok,big guy,if a snowball fight is what you want,you got it",said Calico as she picked up a handful of snow and threw it back at him. Snowballs filled the air for the next several minutes,until both were laying in the white stuff. "Hey,Herc,does this remind you of something?" said Calico as she laid her head on his chest.
"Should it?"he replied as he kissed her forehead. "Don't tell me you forgot what we did last year at this time?' she said,wide-eyed. "Oh,yeah,that"he mumbled as he helped
her to her feet. Before she could answer,his lips covered hers with a passionate kiss,which made her feel very warm. Then he flashed a boyish grin and said,"Do you honestly think I would forget our sleigh ride? How about another one?" With that,he turned her toward a beautiful sight-a sleigh lead by two beautiful snow white horses. He quickly scooped her up and carried her to the sleigh. As he got her settled in, Gemini ran out with a large basket,"Here is the basket you requested,along with the little surprise you had us keep for you". Herc put the basket in Calico's lap,then said to Gemini,"thanks-I owe you a big one.". He climbed in beside Calico,but not before donning a thick coat to
keep out the cold. At the appropriate signal,the horses took off. It wasn't long until they had stopped in front of a cabin. Herc climbed out and went to Calico's side of the sleigh. He took the basket and helped her down. He couldn't resist giving her another kiss. "Shall we go inside?" The birthday Amazon replied"Yes!" with a big smile. Once inside,Herc lead her to the rug in front of the fireplace and got her comfortably settled. Then he brought the basket and sat down beside her. Inside the basket was a bottle of wine,some pastries and fruit and a small box. He handed the box to Calico and said,"For your birthday-a token of my love that I hope you will cherish always."She opened the box and found a bracelet with a heart-shaped locket. As she looked at it,Herc said,"Go on-open it." She did and engraved inside were the following words:"To Calico With Love,Hercules".Calico leaned over and kissed Herc sweetly,which lead to more kisses and then(fade to black here). After enjoying the food & wine,Hercules told Calico that her other escort would be picking her up in the sleigh. No sooner had he said it than there was a knock on the door. Hercules walked her to the door. She opened the door and there stood Prince Hercules. As he watched,Calico & Hercules shared one more kiss. He smiled and said,"I will see you later. Your majesty,she is yours now. Take
good care of her." Herc watched his royal lookalike take Calico out the door to the sleigh. He then closed the cabin door behind them.
Once they were in the sleigh,The prince turned to Calico and kissed her gently."Now,on to my palace",he shouted to the horses after he took the reins. Although the
ride seemed like a long one,it really wasn't. When they arrived,he stopped the horses. One of his royal guards greeted them and helped Calico from the sleigh. "Thank you",said Calico as he led her to the prince. "You're welcome,Lady Calico",was his reply as he turned to leave. Calico & the prince made their way inside the palace,where his private room had been decorated for them as he had requested. When they entered the room,Calico was overwhelmed by what she saw. A vase of roses on the table were flanked by lighted candles. A sofa was next to the fireplace. Prince Herc led Calico to the sofa,seated her,then sat down beside her. He clapped his hands and suddenly,servants brought out food and champagne. He toasted Calico,then presented her a necklace with a blue topaz stone. "It's beautiful",she said as he placed it around her neck."A beautiful necklace for a beautiful lady",he whispered,then kissed her sweetly,followed by another kiss and then(sorry,must fade to black again). Soon it was time for Calico to return to the palace. The prince arrianged for one of his guards to take her back. He kissed her again,with a promise to see her later. Once she was back at the palace,the guard helped her from the sleigh,then took the horse he had tied to the back of the sleigh and rode back to Prince Herc's palace. She ran inside the palace and up the stairs to her room. When she got there,the scroll keepers went to work. Stripe & Tracie helped her into a gown of aqua blue. Gemini & Shamba fixed her hair and provided a pair of pumps to match the dress. Her birthday jewelry completed her asemble. As she looked in the mirror,there was a knock on the door. She opened the door to her escorts,who looked magnificent. They,in turn,were left speechless by the Amazon's beauty. They smiled as they each offered an arm,and the three of them made their way down the stairs to meet Calico's amazon & hunter friends.
Happy Birthday to you,
Haqpy Birthday to you,
Happy Birthday,dear Calico
Happy Birthday to you!
Calico,may your birthday bring you many wonderful surprises!!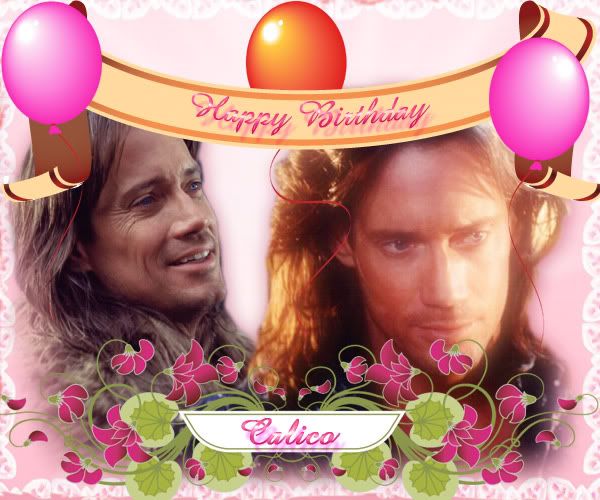 Beautiful card designed by Tracie
Rhonda
member,OIKSFC
Kevin-#1
"what the world needs now is love"