August 14th, 2004, 12:58 PM
"Starchild......."
"Mmmm?"
"Starchild.... Time to wake up."
The Birthday Girl opened her eyes as warm air hit the back of her neck yet again.
"Michael! You made it." Starchild smiled.
The Angel appeared behind Starchild, wrapping his arms around her waist, he whispered into her ear, "Well, of course I made it. I wouldn't miss this day for anything."
The scroll keepers had set a small table on the balcony so they could enjoy breakfast. After a scrumptious meal of fruits and breads, the birthday girl was ready to begin her day.
Turning her in his arms, Michael slowly allowed his eyes to feast upon her from head to toe. "Every time I see you, you seem to be more beautiful. However do you manage that?"
"Hmmm? Perhaps it's the bath powders you last gave me?" Starchild teased as she boldly returned the perusing.
"Perhaps it is." Michael murmured as his lips gently found hers. Finally, releasing her, he took her hand and led her into the gardens. "Come my dear, I've something to show you."
Reaching the far corner of the landscape, the Angel waved his hand and a lovely rosebush appeared. Michael picked one and presented it to her. "I seem to remember a dream you once had. A dream where the was nothing but you, I, and a perfect white rose. For you."
"Oh, I, I...." Starchild couldn't believe her eyes. It was from her dream.
"This rosebush is my gift to you, birthday girl. It will bloom but once a year, on your birthday." Michael actually blushed. "I wish you to know I'll always be with you."
"Michael, I, thank you." Starchild smiled, then stood on her tiptoes to kiss the Angel.
Hours later............
Starchild walked silently through the gardens as the afternoon was just waning into evening, her favorite time of day. Smiling, the amazon held the beautiful white rose, smelling the fragrance as she thought of earlier. Touching her swollen lips, she sighed.
She'd just reached the entrance to the castle when she felt a tingling at her back, Starchild turned around in time to see Ares materialize beside her. "Ares."
Walking behind her, the God of War whispered in her ear. "We have but in a few short hours, then it will be time for your party and I only get you alone until then."
Starchild sighed and closed her eyes. "Mmmmm, and?"
"And...." Ares seductively replied, "My dear, your birthday has begun now. Come!"
"Happy Birthday" Ares whispered in her ear as they materialized in his temple. The GOW took her hands in his as he lowered his lips to hers.
Later, they crossed the room to find a feast laid before the fireplace. Not only were her favorite foods there, but also assorted pillows and weapons. Weapons? No, just one weapon, a new staff with a package attached to it.
After opening it, Starchild smiled. "You remembered..."
"Mmmmhmmmm....." Ares murmured as he kissed her and kissed her and......
The sunset had came and went and with it Starchild reappeared in the birthday suite, barely in time to prepare for her party. She was mildly surprised that the Scroll Keepers weren't there to scold her when she returned.
Giggling, she touched the necklace ensconced against her skin, remembering the fun she and Ares had putting it on. Later, Ares had pulled her into one last embrace before leaving her until the party.
The scroll keepers arrived to help Starchild get ready. The birthday girl was rushed to the dressing room, where a scented bath awaited her. Wrapping the robe around herself, Starchild dreamily floated into the next room where Ferel and Jo awaited to help her get ready for the party. The two scroll keepers smiled as they fixed Starchild's hair, applied her make up, and helped her dress.
Finally, she was ready. Stepping out the door, Starchild's pink tea length gown swirled around her. The laced sandals she wore matched her dress. She wore her birthday necklace along with one beautiful white rose. Her eyes sparkling, Starchild smiled at her escorts. "Shall we?"
Both escorts were speechless, as they believed the birthday amazon couldn't have looked more breathtaking. Taking her arms, they began the descent to her party. All of Starchild's amazon and hunter friends broke into.....
Happy Birthday to you
Happy Birthday to you
Happy Birthday, dear Starchild
Happy Birthday to you......
Happy Birthday Starchild, may it be everything you've dreamed of and more.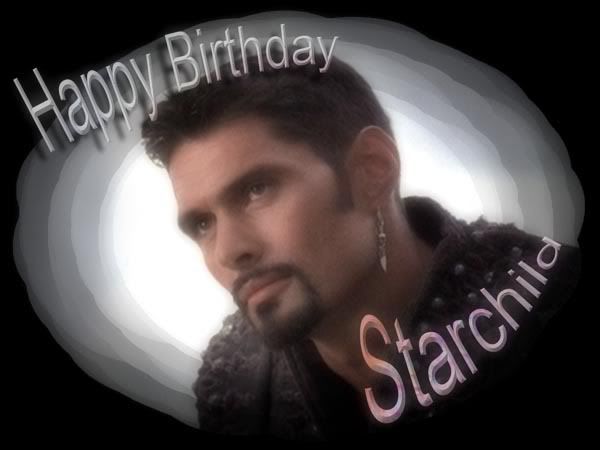 Card prepared by the talanted Chimera
~Jo~
Co-Keeper of the Birthday Scrolls
~Strangers are just friends waiting to happen~